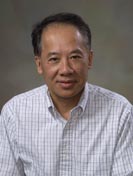 Iam-Choon Khoo
William E. Leonhard Professor of Electrical Engineering
216 Electrical Engineering East
The Pennsylvania State University
University Park, PA 16802
Phone: 814-863-2299
E-mail: ick1_at_psu_dot_edu
Research Area: Optical Materials and Devices
Research Group: Liquid Crystals and Nonlinear Optics Lab
Dr. Khoo is internationally known for his pioneering and leading work in liquid crystals, and in nonlinear optical phenomena and applications. Since joining Penn State in 1984, he has established and directed the Nonlinear Optics and Liquid Crystal Research Laboratory. Over the years, his laboratory has received research funding from various Government agencies including:- the National Science Foundation, Defense Advanced Research Projects Agency, Navy Air Development, Air Force Office of Scientific Research, Air Force Phillips Laboratory, and the Army Research Office. Prof. Khoo is a Fellow of the Optical Society of America, IEEE and the UK Inst. Phys. He is a member of the US Advisory Committee/Int. Commission for Optics at the US National Academy of Science.
Education
Ph.D. University of Rochester, Physics
M.A. University of Rochester, Physics
B.S. University of Malaya, Physics
Expertise
Theories and experiments in photonic devices, nonlinear- and electro- optics materials such as liquid crystals, fibers and nano-structured and novel refractive metamaterials.
Selected Publications and Patents
Link here to selected publications and patents
Honors and Awards
United Kingdom Institute of Physics Fellow award - 1999
IEEE Fellow - 1998
Penn State Engineering Society Premier Research Award - 1995
Penn State Faculty Scholar Medal for Outstanding Achievements in Physical Science and Engineering - 1988
Fellow award of the Optical Society of America in l988
Penn State Engineering Society Outstanding Research Award - l987