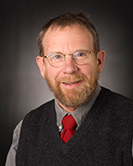 Timothy Wheeler
Assistant Professor
Mr. Wheeler joined Penn State in 1995. He has been designing rocket payloads since 1988. His expertise includes designing and fabricating remote sensors for the sounding rocket environment. He has built a range of instruments such as e-field spherical probes, search coil magnetometers, as well as the related analog and digital electronics for data conditioning. He has provided the project management function for rocket experiments from the brainstorming stage through fabrication, calibration, integration into the rocket and launch site support. He performed similar work for the Space Plasma Physics Group at Cornell University.
Education
M.S. Penn State, Department of Curriculum and Instruction
B.S. Cornell University, Electrical Engineering
A.B.Princeton University, Slavic Languages & Literatures
Expertise
Design and fabrication of remote sensors for the sounding rocket environment.
Selected Publications and Patents
Link here to selected publications and patents
Honors and Awards
Spira Excellence in Teaching Award - 2005