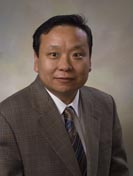 Stuart Yin
Professor of Electrical Engineering
Dr. Yin joined Penn State in 1997. He has published over 100 refereed journal papers in highly ranked optics journals, including Optics Letters, Optics Express, Applied Optics, Optical Engineering, IEEE Photonics Technology Letters, and IEEE Journal of Lightwave Technologies. He also co-authored three advanced optics books: (1) Fiber Optics Sensors, Marcel Dekker, 2002, (2) Introduction to Information Optics, Academic Press, 2001, (3) Photorefractive Optics, Academic Press, 1999. He also presented over 100 original papers (over 10 invited papers) in a variety of optical professional meetings, including Optical Society of America (OSA) annual meetings, OSA topic meetings, The International Society for Optical Engineering (SPIE) meetings, and other international optical conferences.
Education
Ph.D. Penn State University, Electrical Engineering
M.S. Nankai University, China, Optical Engineering
B.S. Nankai University, China, Physics
Expertise
Massive optical memories, medical optics, photo refractive materials, optical computing, and fiber-optic communications.
Selected Publications and Patents
Link to selected publications and patents
Honors and Awards
Penn State Engineerig Alumni Society Premier Research Award - 2010
Optical Society of America Fellow- 2007
International Society for Optical Engineering Fellow- 2004
Penn State Engineering Society Outstanding Research Award - 2004