Alumni News
Early Career Recognition Alumni Award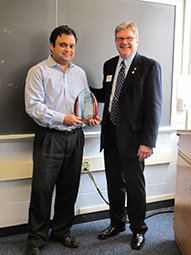 The Department of Electrical Engineering and the Penn State Electrical Engineering Society announce that Arnab Roy is this year's recipient of the Early Career Recognition Alumni Award. Pictured (left to right) Arnab Roy and Dale Hoffman.
Roy graduated from Penn State with his MS in Electrical Engineering in 2004 and PhD in Electrical Engineering in 2011. He was nominated by Douglas Castor his Department Manager at InterDigital. Mr. Roy was hired into InterDigital's Research and Development organization as graduate research assistant in 2011, and later that year accepted a full time position as a Senior Engineer. He joined during the startup phase of a new project aimed on solving the longer term mobile data capacity issues through using higher frequency bands. Since joining InterDigital, Roy continues to provide high quality results in some of the most challenging technical areas of their products and research. He has participated in multiple phases of the design lifecycle from requirements definition through detailed design and simulation results analysis. He has a strong background in physical layer technology from his Penn State experience and prior intern employments, which he applied to perform feasibility analysis during the early phases of the project. Roy took the initiative to give a presentation at Penn State on his work, and collected feedback from university faculty and students.
Roy's contribution to InterDigital goes well beyond being an individual contributor to their projects; he is truly a leader through his exemplary work and commitment to success. Roy is well liked by everyone in the company's organization. He is a team player who can be counted on to deliver results with high quality. The team is very appreciative of his work and his efforts to present clear results are exemplary to others. Arnab is on his way to a very successful career at InterDigital and in the wireless industry.
His department manager says "I find Arnab as one of the most reliable employees. When faced with aggressive schedules he is willing to put in the extra effort to reach deadlines. He always goes the extra mile to get things accomplished and meet every deadline. He presents results clearly and accurately portrays risk areas and deficiencies."
This award was developed to recognize and honor outstanding Penn State electrical engineering alumni at the outset of their career. A bachelor's, master's or doctoral degree in electrical engineering from Penn State, University Park campus, within ten years of the nomination date is required. The award recipient must have demonstrated outstanding technical excellence resulting in significant accomplishments as well as showing great potential for continued success in their field. In addition, the individual should have solid extra-curricular leadership activities having a positive influence on others and role model opportunities.
Please use the following links to access the nomination form and award criterion.
Outstanding Engineering Alumni Award

Though he's spent his entire career in aviation, John Shavinsky ('85 BSEE) says his career path wasn't completely clear to him when he was growing up. "I knew I wanted to go into engineering, but I didn't know what discipline most interested me," he recalls. In choosing to study electrical engineering, John says the major gave him the greatest flexibility after graduating.
He began his career as an avionics instructor with Boeing in Seattle, WA. John spent nearly a decade at the airplane manufacturer in a number of capacities including avionics specialist, flight test instrumentation engineer, and customer engineer. "The beauty of a big company is that you can transfer around and get a lot of experience," he explains. "That was my thought process, to learn as much about aviation as I could."
As his interest in the business side of the aviation industry grew, John decided to return to school and earn his law degree. "I picked it because I thought it would set me apart from the crowd. It was something that was always in the back of my mind, an interest in the law." In 1994, he joined International Lease Finance Corporation as assistant vice president of aircraft specifications and material management. There he worked under chairman and CEO Steven Udvar-Házy, namesake of the National Air and Space Museum annex at Washington Dulles International Airport.
John joined New York–based CIT Aerospace in 1999, serving as vice president of new aircraft acquisitions, then later as senior vice president of fleet management and technical services. At CIT Aerospace, John was responsible for buying more than 400 airplanes with a total value of approximately $33 billion. "I got to deal with big products, big responsibilities, and big money," he says. "And it still had all of the technical requirements."
John eventually left CIT Aerospace in 2011 to join Intrepid Aviation as its chief operating officer. He says the allure of Intrepid was the opportunity to grow the company. "It was struggling in 2011. It was losing money," John states. Under his leadership, Intrepid has already expanded its aircraft portfolio from $20 million to more than $2 billion." "It's part of my nature to build things," he says. "I finally found what I wanted to do when I grow up."
John and his wife, Lynn ('86 HHD), reside in Fairfield, CT, with their two sons, Michael and Andrew.
Past Outstanding Engineering Alumni Award winners can be viewed here.