Latest News

The Arecibo Observatory (AO) located in Arecibo, Puerto Rico, is the world's largest and most sensitive radiotelescope used for atmosphere, astronomy and planetary research. In recognizing its 50th year of service to the scientific community, the AO celebrated with a science symposium "50 Years of Scientific Achievement and Future Directions at Arecibo Observatory".
The Department of Electrical Engineering had six attendees: James Breakall, professor; John Mathews, professor; Anthony Ferraro, distinguished professor emeritus; Julio Urbina, associate professor; Lynn Carpenter, associate professor emeritus and Thomas Collins, retired director of the electronics design services. Breakall, Mathews, Ferraro, and Urbina presented papers relating to the history of the facility.

The Institute of Electrical and Electronics Engineers (IEEE) has named Srinivas Tadigadapa, professor of electrical engineering, an IEEE fellow. Tadigadapa was cited for contributions to microeletromechanical systems for fluidic and biochemical sensors.


Penn State announced that Amr Salah Elnashai will serve as the new dean in the College of Engineering, pending approval by the University Board of Trustees at the Nov. 22 meeting. Read the whole article about the new dean.

Professor Suman Datta will participate in a Penn State led multi university research initiative that is working to develop a computer prototype that can see the surroundings in the same fashion as the human brain's visual cortex with improved energy efficiency. With a $10 million grant from the National Science Foundation's Directorate for Computer and Information Science and Engineering, Datta's research team is part of a seven-university group that will receive an NSF CISE Expeditions in Computing award, the largest single investment the foundation makes in computing science. The project envisions a holistic design of a machine vision system that will approach or exceed the capabilities and efficiencies of human vision, according to the foundation. This technology will enable computers to interprete visual content at three orders of magnitude enhanced efficiency than current technologies. Datta's team is funded by more than $500,000 of the total grant. His team is harnessing many body interaction in correlated materials to fabricate analog processing elements as building blocks for next generation vision processing systems. Collaborating institutions include University of Southern California, Stanford University, York College of Pennsylvania, University of California-San Diego, University of California-Los Angeles and the Massachusetts Institute of Technology. Read the whole story about Suman Datta's research initiative here.
Mohsen Kavehrad, W. L. Weis Chair Professor of Electrical Engineering, and his research group have developed a LiFi system which may revolutionize location identification. The research, funded by a grant from the National Science Foundation, was recently chosen to be highlighted on the NSF website here.
For more information about Dr. Kavehrad and his research team, please see here.
Electrical Engineering's Rebecca H. Ripley was the student marshal for the College of Engineering at Penn State's summer commencement ceremony. She chose Jeffrey Schiano, associate professor of electrical engineering, to be her faculty escort. College of Engineering student marshals are selected for their outstanding academic achievement and contributions to engineering student life.

Dr. Raj and Jeannette Mittra were recently inducted into the Elm Circle of the Mount Nittany Society at Penn State. Elm Circle members are recognized for cumulative giving to Penn State that has reached or exceeded $5 million. The funds will be used to establish a graduate fellowship, professorships for both established and emerging faculty stars, support for the microwave lab, and a "fund for excellence" in the Department of Electrical Engineering. Mittra joined Penn State as professor of electrical engineering in 1996. President Rodney Erickson commented during the award presentation that Mittra is one of the first Penn State professors to join the Elm Circle.
Erkan A. Gurdal, Ph. D. Student at International Center for Actuators and Transducers (supervised by Professor Kenji Uchino) won first place in the student poster competition at the 2013 International Workshop on Acoustic Transduction Materials and Devices, held in State College in May. The title of the paper is "Influence of Doping on Hardening/Softening Mechanisms in (Na0.5K0.5)NbO3-based Lead-free Piezoelectric Ceramics."
Zhiwen Liu, associate professor of electrical engineering, and his research team including doctoral students Perry Edwards and Chuan Yang have developed an optical spectrometer which has won one of three prizes in a wireless competition sponsored by the Vodafone Americas Foundation. The Vodafone Americas Foundation Wireless Innovation Project is designed to spark innovation and seek the best "mobile for good" solutions. Their optical spectrometer is designed to be integrated with a mobile phone which can be used for breast cancer detection, monitoring surgical wounds and color analysis for assisting people with color blindness. As part of the award each of the three award winner is entered into a contest to raise additional funds through the crowdfunding platform, Indiegogo. The project which receives the most unique visitors on its Indiegogo campaign by midnight on April 21, 2013 will receive additional funds from the Vodafone Americas Foundation. Please visit the site to support Dr. Liu and his research team. More on the project can be found here.

Soheil Bahrampour, PhD candidate in electrical engineering, won best presentation award at the 10th Annual College of Engineering Research Symposium on April 2. The paper is titled as "Feature Extraction Methods for Target Detection and Classification." He is jointly advised by Kenneth Jenkins and Asok Ray.




An upcoming book titled "The Shark's Paintbrush: Biomimicry and How Nature is Inspiring Innovation" includes an interview with Mohsen Kavehrad, the W.L. Weiss Chair Professor of Electrical Engineering. Author Jay Harman interviewed Kavehrad on a paper he published through a Defense Advanced Research Projects Agency/Air Force Research Laboratory project. The book is due out as a hardcover and audiobook in June. For the full story, click here.

Mohammadreza Amini Kashani, graduate student in electrical engineering, won best paper award at the 10th Annual College of Engineering Research Symposium on April 2. The paper is titled "A new general and tractable probability density function of turbulence induced fading for free space optical communications." His adviser is Mohsen Kavehrad.

Emil Laftchiev, graduate student in electrical engineering, won best paper award at the 10th Annual College of Engineering Research Symposium on April 2. The paper is titled "Robust Map Design for Terrain-Based Vehicle Localization." His adviser is Constantino Lagoa.



Theresa Mayer, Distinguished Professor of Electrical Engineering, and Douglas Werner, John L. and Genevieve H. McCain Chair Professor of Electrical Engineering, and their research was recently featured in an article in Scientific Reports. View the Scientific Reports article here. Penn State issued the following news article about their research here.
A Penn State project, which includes several electrical engineering students, is one of 24 small satellites selected by NASA to fly as auxiliary payloads planned for launch between 2014 and 2016, the agency recently announced. For the full NASA story, click here.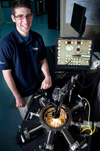 Matthew Hollander, Ph.D. candidate, won the best student paper award at the Device Research Conference. His paper is titled "High performance, large area graphene transistors on quasi-free-standing graphene using synthetic hexagonal boron nitride gate dielectrics." Hollander is advised by Suman Datta in the electrical engineering department and Joshua Robinson in the materials science and engineering department.

Congratulations to Ram Narayanan, professor of electrical engineering, for being awarded the Penn State Engineering Alumni Society Outstanding Research Award. The award recognizes and rewards outstanding engineering researchers for accomplishments in advancing the frontiers of knowledge. These research awards are established to confer honor on individuals who, by their contributions to knowledge, have brought recognition to themselves, the College, and Penn State.
2013 Waynick speaker is Bill Murtagh, Program Coordinator for the National Oceanic and Atmospheric Administration, Space Weather Prediction Center. It will be held on Friday, April 12 at 8:00 p.m. in 22 Deike Building. More information about the Waynick lecture series can be found here.
Shani Allison, a 2001 electrical engineering alumna, was one of seven Penn State alumni named Jan. 18 by the University's Board of Trustees as a recipient of the 2013 Distinguished Alumni Award. The award is the University's highest honor for an individual. Allison is a program management analyst for the Ford Motor Co. in Dearborn, Mich., and resides in Novi, Mich.