Penn State Electrical Engineering Society
Penn State Electrical Engineering Society (PSEES) is the electrical engineering alumni group whose objective is to promote fellowship and communication among the alumni, faculty and students of the department in order to work for the improvement of the department and the college. There are a number of opportunities for involvement including participation in several active committees, attendance at networking events and participation in student projects.
The PSEES constitution can be viewed here.
Pictures of past events can be found here.
Winter 2014 Events
Prior to the winter career fair, alumni volunteers reviewed the resumes of undergraduate students. Approximately 38 students were signed up in 15 minute increments and kept our alumni busy!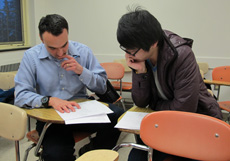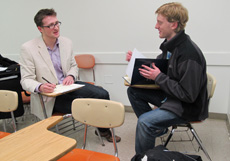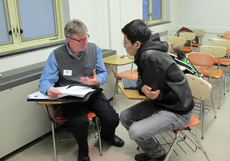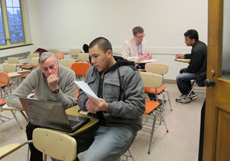 Fall 2013 Events
A homecoming football tailgate for electrical engineering alumni and the department was held on Oct. 12 beginning at 1:00 p.m. prior to the game with Michigan.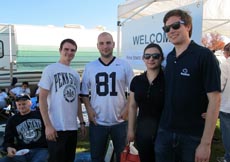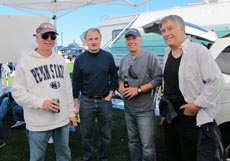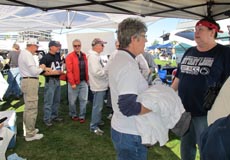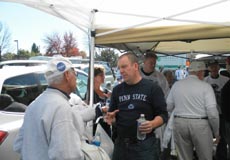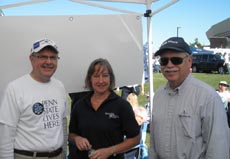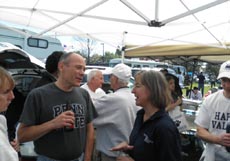 A College of Engineering tailgate was held on November 2 at the Bryce Jordan Center in the Founder's Room starting 3 1/2 hours before the Penn State vs. Illinois football game. More information can be found on the college website here.
Officers
Pictured below from the right: Dale Hoffman, president; Eric Kline, secretary/treasurer.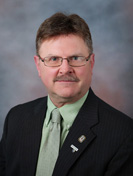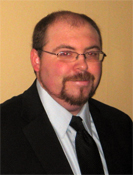 The three active SPSEE committees are listed below. To join a committee or for more information, please e-mail the corresponding contact.
Committee #1: Alumni-Faculty Relations
The Alumni-Faculty Relations Committee is tasked with developing activities and programs that create a bond between alumni and the electrical engineering department faculty. This committee benefits the department by acting as an informal advisory board which provides feedback to the department on graduates (for example, how well they are prepared). In addition, the committee offers an industry perspective to helping build the endowments to fund graduate fellowships and undergraduate scholarships. Alumni will also benefit from interaction with the faculty by virtue of having a window into current research and educational trends.
Contacts: Sven Bilén or Jim Blazer
Committee #2: Alumni-Alumni Networking
The Alumni–Alumni Networking Committee will create opportunities for alumni-to-alumni networking via activities of the department alumni group, PSEES. Football tailgates, alumni receptions, social networking groups (Linked-In), and activities associated with PSEES meetings (such as department and campus tours) will provide networking opportunities.
Contacts: Jim Patterson or Jerry Kolbe
Committee #3: Alumni-Student Relations
The Alumni-Student Relations Committee is responsible for engaging alumni in providing valuable services to current and/or future students. Activities such as mentoring, résumé review, participation in the engineering open house, involvement in the EPICS program, sponsorship of a senior project, involvement in a student organization such as SSPL, networking at receptions, and other yet-to-be-created programs will provide students with guidance and advice to help guide their academic and work careers.
Contacts: Eric Kline or Mark Wharton