Penn State Electrical Engineering Society
Penn State Electrical Engineering Society (PSEES) is the electrical engineering alumni group whose objective is to promote fellowship and communication among the alumni, faculty and students of the department in order to work for the improvement of the department and the college. There are a number of opportunities for involvement including participation in several active committees, attendance at networking events and participation in student projects.
Board of Directors

A. C. (Chet) McQuaide, Jr. – President
StraDis Consulting, LLC
Berkeley Lake, GA
chet_mcquaide@bellsouth.net
Chet McQuaide retired from AT&T Laboratories as Executive Director, Architecture Migration after a career in telecommunications R&D leadership at Bell Labs, BellSouth, and AT&T. Since his retirement from corporate life, he formed StraDis Consulting, LLC, a consultancy focusing on communications technology, innovation, and R&D leadership. McQuaide graduated from Penn State with a Bachelor of Science degree in Electrical Engineering in 1965 (NROTC). He subsequently earned an MSEE from Stanford University ('71) and an executive MS from the Lubin School of Business of Pace University ('84). He is inventor/co-inventor of over 30 patents in the field of communications technology. McQuaide is a member of Tau Beta Pi and Phi Kappa Phi honoraries, a Life Senior Member of the IEEE, and a Life Member of the Penn State Alumni Association. McQuaide is active as a Penn State EE mentor and as a volunteer recruiter representing Penn State at Atlanta area career fairs. McQuaide and his wife reside in Berkeley Lake, Georgia.

Robert (Rob) Masters - Vice President
Paul Hastings, LLP
Washington D.C.
robmasters@paulhastings.com

Rob Masters is an attorney and partner in the Washington D.C. of the international law firm of Paul Hastings LLP. Masters serves as global vice chair of Intellectual Property at Paul Hastings, overseeing the firm's 100 plus lawyer IP practice, and chair of the firm's litigation practice in Washington, D.C. For over 20 years, Masters has focused his practice on patent and trade secret litigation where he has served as lead trial lawyer on a number of major cases. He has extensive experience representing leading technology companies in a broad range of technologies, including computer hardware and software, secured internet/network communications and protocols, consumer electronics and semiconductor designs, financial services, telecommunications, medical devices, and sporting goods. Prior to becoming a lawyer, Masters led a successful career as an electrical design engineer for Westinghouse Electric Corporation at its BWI facility. There, Masters was involved in the design and development of microprocessor and computer based designs and software development for the world's most advanced ground-based radars. Masters earned a Bachelor of Science degree in Electrical Engineering from Penn State and his Juris Doctorate from the University of Baltimore. Masters currently serves as a mentor to Penn State electrical engineering students and is a member of the Penn State Electrical Engineering Board. Masters and his family resides in Olney, Maryland.

Andrew Berger - Mentoring Advisory Board Chairman
Parsons Corporation
Charlotte, NC
Andrew.Berger@parsons.com
Andrew Berger is the Vice President and Director of Corporate Operations for Parsons Corporation, headquartered in Pasadena, California. Parsons delivers engineering, construction, technical services, program and construction management to federal, regional, state and local government agencies and private sector industrial customers worldwide. Berger holds a Bachelor of Science in Electrical Engineering from Penn State and has over 28 years' experience as an engineer and manager with companies including URS, Dames & Moore Group and Aydin Monitor Systems. He has held positions in engineering, project management, contracts, business management, finance, general management, mergers and acquisitions, operations and human resources in businesses spanning North and South America, Europe, the Middle East and Australasia. Berger is based in Parsons' Charlotte, NC office.

Eric Foreman
IBM Microelectronics
Essex Junction, VT
eforeman@us.ibm.com
Eric A. Foreman has been with IBM Microelectronics since 2001, where he is responsible for developing microchip design methodologies for server processor and ASIC designs. During his career, he has focused on the development of methodologies for noise cross-talk affects on timing, manufacturing process variation-aware timing, and statistical timing. Foreman has supported design teams with the successful tape-out of well over 100 designs, has filed over 50 patents, and has published more than 25 papers. Foreman is currently the technical team lead for timing methodology development, a Senior Member of the IEEE, and an IBM Master Inventor. Foreman received a Bachelor of Science degree in Electrical Engineering with a Mathematics Minor from Pennsylvania State in 1999, a Master of Science degree in Electrical Engineering from Boston University in 2001, and a Ph.D. Electrical and Computer Engineering from Clarkson University in 2011. Foreman and his family live in Essex Junction, Vermont.

Elizabeth (Beth) Gemmell
Berenato & White
Columbia, MD
Egemmell122@gmail.com
Having over a decade of experience in intellectual property as a patent attorney, agent, and a patent examiner, Elizabeth K. Gemmell has represented domestic and foreign clients in a wide range of intellectual property issues including U.S. and foreign patent procurement and portfolio analysis, ex parte reexaminations, and patentability, validity, and infringement analyses. Gemmell received her Bachelor of Science degree in Electrical Engineering from Penn State in 2001. Gemmell received her J.D. from the University of Maryland School of Law in 2011. Gemmell's expertise extends to diverse technologies in the electrical, electro-mechanical, and mechanical fields. Specific technologies include telecommunication systems, displays including organic light emitting displays, plasma displays, and liquid crystal displays, light emitting diodes, computer networking, consumer appliances and electronics, software and information systems, utility measuring, semiconductors, x-ray and gamma ray systems, medical devices, optical waveguides, and optical measurement and testing. Gemmell is admitted to practice in Maryland and Virginia and is a member of the Maryland Bar Association, the Virginia Bar Association, and the American Intellectual Property Law Association.
Dale T. Hoffman - past president
Retired
Penn State Engineering Alumni Society – Vice President
Port Matlida, PA
dhoff128@comcast.net
Dale Hoffman retired as the Technical Director and Deputy to the Commanding Officer of the Aegis Technical Representative Navy Command in Moorestown, NJ in 2008 after a 35 year career with the Department of the Navy as a civilian System Engineer. Hoffman received his Bachelor of Science in Electrical Engineering from Penn State in 1972 and in 1994 achieved Defense Acquisition Workforce Improvement Act (DAWIA) Level III Certification in Systems Planning, Research, Development and Engineering (SPRDE) and became a member of the Navy Acquisition Professional Community. Since retirement, Hoffman has been actively involved as a member of the Electrical Engineering Department Industrial and Professional Advisory Council from 2006-2010 - Chair 2009 & 2010; the Penn State Electrical Engineering Society - President 2011-2014; Centre County Chapter Penn State Alumni Association - President 2011-2013; a Member of the Navy League of Centre County; and presently Penn State Engineering Alumni Society - Vice President 2014. He is involved in the Electrical Engineering Mentoring program, participates in the Career Services Resumania and the College of Engineering resume review, supports the College of Engineering Design Showcase, volunteers at the Hintz Alumni Center and is the Fellowship Chairman of the Penn State Engineering Alumni Society. He received two Department of the Navy Meritorious Civilian Awards in 2001 and 2003, a Department of the Navy Superior Civilian Award in 2008, the Penn State Outstanding Engineering Alumnus (OEA) for Electrical Engineering in 2011 and the Penn State Alumni Association Volunteer of the Year Award for 2012. He resides in Port Matilda, Pennsylvania.
Mentoring Program
PSEES sponsors a mentoring program for alumni and students. An advisory board was developed to assist in the organization, improvement, and functioning of the program. The advisory board members are as follows: Andy Berger (chair), Chet McQuaide, Chris Hetro, David Gasda, David Markman, Jerry Knotts, Joe Sullivan, Matt Chang, Paul Mittan, and Scott Ackerman. Check here for more information or to sign up for the mentoring program.
The PSEES constitution can be viewed here.
Pictures of past events can be found here.
Winter 2014 Events
Prior to the winter career fair, alumni volunteers reviewed the resumes of undergraduate students. Approximately 38 students were signed up in 15 minute increments and kept our alumni busy!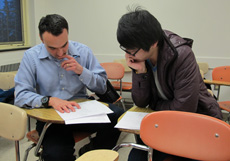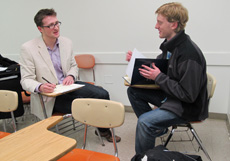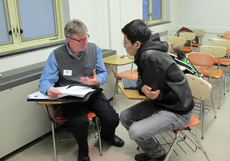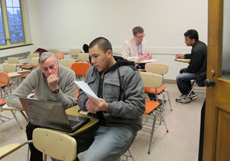 Fall 2013 Events
A homecoming football tailgate for electrical engineering alumni and the department was held on Oct. 12 beginning at 1:00 p.m. prior to the game with Michigan.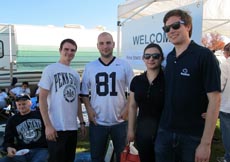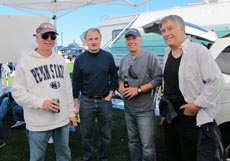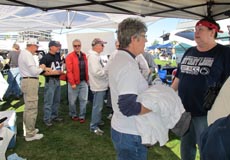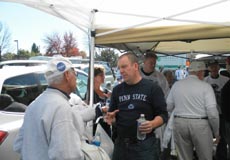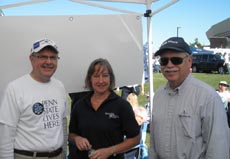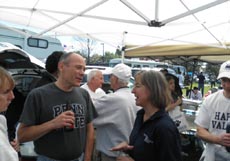 A College of Engineering tailgate was held on November 2 at the Bryce Jordan Center in the Founder's Room starting 3 1/2 hours before the Penn State vs. Illinois football game. More information can be found on the college website here.