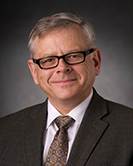 Victor Pasko
Professor of Electrical Engineering and Graduate Program Coordinator
Dr. Pasko joined Penn State in 2000, following three years as a Postdoctoral Research Affiliate and one year as an Engineering Research Associate at Stanford University. He is a member of IEEE, American Geophysical Union and US Commissions G and H of International Union of Radio Science. Dr. Pasko teaches undergraduate and graduate courses in the areas of engineering electromagnetics, plasmas, and plasma assisted materials processing. He is a member of the Communications and Space Sciences Laboratory (CSSL). He served as an Invited Professor at Energetique Moleculaire et Macroscopique Combustion Laboratory, Ecole Centrale Paris, France in the Fall of 2006. From 2005 to 2008 Dr. Pasko served as Chair of Atmospheric and Space Electricity Focus Group of American Geophysical Union (AGU). He served as a Chair of U.S. Commission H of International Union of Radio Science (URSI) from 2011 to 2014. Dr. Pasko serves as an Associate Editor of Radio Science and Journal of Geophysical Research.
Education
Ph.D. Stanford University, Electrical Engineering

Expertise
Atmospheric electrodynamics, atmospheric acoustic-gravity waves, gas discharge phenomena, computational plasma physics and electromagnetics.
Selected Publications and Patents
Link to selected publications and patents
Honors and Awards
Penn State Engineering Alumni Society (PSEAS) Outstanding Research Award - 2016
Editors Citation for Excellence in Refereeing for Geophysical Research Letters - 2007
NSF CAREER Award - 2002
NSF (CEDAR) Post-Doctoral Award - 1996
Young Scientist Award of International Union of Radio Science (URSI) - 1996