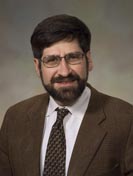 Jeffrey Schiano
Associate Professor of Electrical Engineering
227D Electrical Engineering West
The Pennsylvania State University
University Park, PA 16802
Phone: 814-865-5422
E-mail: jls32_at_psu_dot_edu
Research Area: Control Systems
Research Group: Quantum Control Systems Lab
Dr. Schiano joined the faculty of Penn State University in 1994, following three years as a visiting assistant professor at the University-of Illinois at Urbana-Champaign. His research interests in control system applications span three areas: nuclear resonance, neural network controllers, and microelectromechanical systems. Jeff Schiano has also organized a microelectromechanical systems research group in the Department of Electrical Engineering. His focus within the group is on the development of feedback control systems that enable electron tunneling based transducers to provide high sensitivity measurements of linear acceleration and angular velocity.
Education
Ph.D. University of Illinois, Electrical Engineering
M.S. University of Illinois, Electrical Engineering
B.S. Carnegie Mellon University, Electrical and Biomedical Engineering
Expertise
Control systems, feedback control of quantum mechanical processes.
Selected Publications and Patents
Link to selected publications and patents
Honors and Awards
Penn State Engineering Society Outstanding Teaching Award - 1998
Harold L. Olesen Award for Excellence in Undergraduate Teaching - 1992