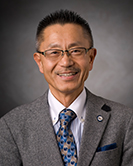 Kenji Uchino
Professor of Electrical Engineering
Dr. Uchino, a pioneer in piezoelectric actuators, is Director of International Center for Actuators and Transducers. He is also the founder and Senior VP & CTO of Micromechatronics, Inc. Prior to joining Penn State in 1991, he was a Research Associate in the physical electronics department at Tokyo Institute of Technology. He joined Sophia University, Japan, as an Associate Professor in physics in 1985. He was also involved with Space Shuttle Utilizing Committee in NASDA, Japan, and Vice President of NF Electronic Instruments, USA. He is the Chair of Smart Actuator/Sensor Study Committee sponsored by Japanese MITI. He was the associate editor for Journal of Advanced Performance Materials, J. Intelligent Materials Systems and Structures, and Japanese Journal of Applied Physics. He has authored 550 papers, 54 books and 26 patents in the ceramic actuator area.
Education
MBA St. Francis University, Business
Ph.D. Tokyo Institute of Technology, Physical Electronics
M.S. Tokyo Institute of Technology, Physical Electronics
B.S. Tokyo Institute of Technology, Physics
Expertise
Dielectrics/ferroelectrics/piezo-electrics, device design/fabrication, solid state actuators, transducers, positioners, ultrasonic motors.
Selected Publications and Patents
Link here to selected publications and patents
Honors and Awards
IEEE Fellow
Penn State Engineering Alumni Society Premier Research Award - 2011
Editorial Board Award (Life long contribution to the Editorial Board of Japanese Journal of Applied Physics), Japanese Applied Physics Society - 2010
Applied Electromagnetics and Mechanics Award, Outstanding Academic Book titled "Micromechatronics, Morikita Publishing", sponsored by The Japan Society of Applied Electromagnetics and Mechanics, jointly with Dr. Takaaki Ishii (Yamanashi University) - 2008
Link to List of honors and awards