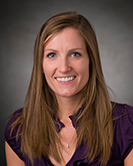 Erin Rogers
Proposal and Grant Generalist
131 Electrical Engineering East
The Pennsylvania State University
University Park, PA 16802
Phone: 814-867-4745
E-mail: ems21_at_psu_dot_edu
Erin's job responsibilities include:
Assist faculty with preparation and processing of initial and revised proposals
Processing CPS budgets for proposals
Prepare and process subcontracts in coordination with Research Accounting Office
Review budgets for contract compliance and accuracy
Assist in the receiving, tracking, scanning and distribution of awards.
Assist in closing-out contracts and grants budgets
Collaborate requests for advanced fund numbers, cost centers and other account set up actions with the Research and Administration Office
Prepare and compile sponsored research reports for the department
Prepare and disburse monthly budget reports and monitor balances
Calculate burn down rates, research spend outs, and various sponsored research
Administer wage payroll and implement bi-weekly payroll. CRFN wages.
Erin is generally available 7:30 AM - 4:00 PM; Lunch 12:00 PM - 12:30; (W) 7:30 AM - 4:30 PM; Lunch 12:00 PM - 1:00 PM
When Erin is not available, please see Pam Stauffer.