Alumni News
Early Career Recognition Alumni Award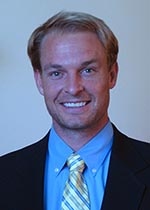 Corey Cochrane is the recipient of the electrical engineering department's 2015 Early Career Alumni Recognition Award.
Established in 2010, the Early Career award complements the College of Engineering's Outstanding Engineering Alumni Awards by celebrating exceptional career accomplishments of recent graduates.
Cochrane earned his bachelor's and master's degrees in electrical engineering in 2004 and 2007, respectively, and his doctorate degree in engineering science in 2012.
"Receiving this award from the electrical engineering department is truly an honor. Penn State is such a big part of who I am,' said Cochrane. "Browsing through other recipients' bios online, I realize how fortunate I am to be recognized alongside such high performing graduates. To see students of this caliber continually graduating from the EE program further enhances my pride with the University."
Cochrane, who said he chose to pursue all three of his degrees at Penn State because of its highly ranked engineering program, is a NASA Fellow at the California Institute of Technology's Jet Propulsion Laboratory. His work focuses on the development of spectroscopic tools for space exploration, primarily on Mars.
He is also co-owner and co-founder of Blue Spin LLC, a high-tech startup company that designs and manufactures ultra sensitive and compact electrically detected magnetic resonance spectrometers for semiconductor device research and development.
Between earning his M.S. and Ph.D. Cochrane worked in Boeing's Space and Intelligent Systems organization in El Segundo, Ca., developing algorithms for satellite-to-ground communications.
According to Patrick Lenahan, Distinguished Professor of Engineering Science and Mechanics and Cochrane's former faculty adviser, Cochrane is hardworking and focused, having achieved a lot in his short career, and the award is well-deserved.
"Cochrane has made a remarkable series of contributions to several areas of science and technology," said Lenahan. "One measure of the quality and quantity of these contributions is the sheer number of refereed journal articles, conference proceeding articles and patents which he has already authored and co-authored. His publications, according to Google Scholar, have been cited 222 times in scientific and technical literature, which is excellent considering his first key publications of his career have just been printed."
While Cochrane has a busy professional life he is fully committed to his alma mater and hopes other electrical engineering students take advantage of the University's ample resources as they earn their Penn State EE degrees.
"My greatest piece of advice to those students is to soak up as much information as possible while at the University. Do more rather than simply get by. Find what you love to do, and pursue that," said Cochrane. "Take advantage of the highly knowledgeable faculty and plentiful resources that are available. Go out of your way to expand on the solid background the school provides and don't be afraid to try out your own new and innovative ideas. The journey may be tough but will be well worth it if you put in the additional effort."
Outstanding Engineering Alumni Award

When Roger Liang came to Penn State in 1986, it was the first time he had ever left his home country of Taiwan. He admits it was a culture shock, at first. "Luckily, many international students attend the university. I got to interact with some of them and make friends."
Following graduation, Roger accepted a position as a software engineer for Cadence Design Systems, an electronic design automation software and engineering services company in San Jose, CA.
While he was at Cadence, his wife, Annie, took an accounting job at Greatlink, USA, a custom cable assemblies and wire harnesses innovator in Fremont, CA. Roger explains, "It was a small company at the time, and my wife and I invested in it."
That investment paid off. In 1994, he became CEO of the firm.
Under Roger's leadership, Greatlink grew from fewer than 10 employees to almost 40. He also helped to expand the company's product line, diversify its customer base, and increase sales from less than $10 million to approximately $50 million per year.
In 1997, Roger became chair of BizLink Holding Inc. in Taiwan. The company had been established the previous year, with a vision of becoming the leading global supplier of interconnectivity solutions.
Roger says, "When I took over, the company's focus was on computer products, but through the years we have added mobile technology and medical equipment, among other things."
BizLink currently has more than 6,000 employees across its locations in five countries.
In 2010, the company received approval for the primary listing of its stock on the Taiwan Stock Exchange.
The firm's honors include a 2012 Excellent Partner Award by Tesla Motors, Inc. and a 2014 Flextronics Strategic Supplier Award.
While Roger appreciates the responsibility of making critical decisions for the company, he notes that the extensive traveling can be a challenge. "I have a great family that supports me."
He also holds a bachelor's degree in electronics engineering from National Chiao Tung University, Taiwan.
Roger lives in Fremont with his wife and daughters, Katie and Daphne.
Past Outstanding Engineering Alumni Award winners can be viewed here.