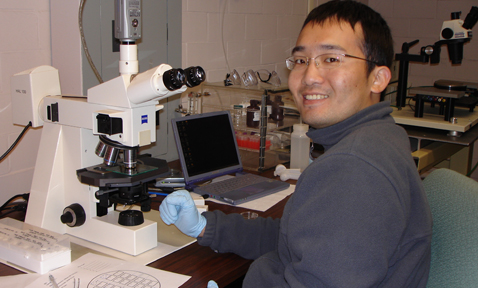 Prospective Students
Department of Electrical Engineering
The Penn State Electrical Engineering Department, established in 1893, is among the largest, oldest, and the most innovative in the nation. A fascinating history of our department, compiled in 1993 as part of our centennial celebration, is available here.
The PSU Electrical Engineering Department offers B.S., M.S., and Ph. D. degrees in Electrical Engineering.
Approximately 550 students are enrolled in the undergraduate program, and approximately 220 students are enrolled in the graduate program, with about 2/3 pursuing doctoral degrees. We have over 40 Professional Faculty, including 14 IEEE fellows. We offer approximately 90 courses from freshman to graduate level, encompassing all areas of electrical engineering. We also have a vibrant research program, at both the graduate and undergraduate level.
Faculty and students are engaged in courses and research in the following fields:
Communications and Networking
Control Systems
Electromagnetics
Electronic Materials and Devices
Optical Materials and Devices
Power Systems
Signal and Image Processing
Remote Sensing and Space Systems
College of Engineering
Penn State's College of Engineering, established in 1896, has a long tradition as one of the country's leading educators of engineers. Through its land grant tradition, Penn State Engineering strives for national leadership in innovative engineering education, vigorous R&D partnerships with U.S. industry, and service initiatives through continuing education, technology transfer, and support for governmental agencies.
The internationally known Penn State College of Engineering faculty number 280 full-time, tenured, and tenure-track members at University Park and more than 100 full-time members at other Penn State locations. Of the University Park faculty, 14.6 percent are women and 5.7 percent are minorities. Penn State engineering faculty are leaders in research, in their profession, and in the development of innovative curricula and courses.
Penn State University
Penn State is one of the largest land grant universities in the United States, with 79,000 students—about 40,000 at the University Park Campus, and the remainder at the twenty two locations throughout the state. University Park Campus is located in Central Pennsylvania with the following cities located within a 250 mile radius: Pittsburgh, Philadelphia, Baltimore, Washington D.C. Clevelend and New York.