Timothy Hackett Named Electrical Engineering Student Marshal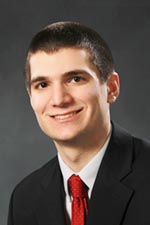 April 17, 2015 – Timothy M. Hackett will be the student marshal for the electrical engineering baccalaureate degree program at the Penn State College of Engineering spring commencement ceremony on May 8. Hackett will receive a bachelor of science degree in electrical engineering.
He has chosen Sven Bilén, head of the School of Engineering Design, Technology, and Professional Programs and associate professor of engineering design, electrical engineering, and aerospace engineering, to be his faculty escort.
College of Engineering student marshals are selected for their outstanding academic achievement and contributions to engineering student life.
Hackett is the son of Lise and David Hackett of Phoenixville. He is a 2011 graduate of Phoenixville Area High School.
A Schreyer Scholar, Hackett completed an honors thesis titled "Development of the Airborne Remote Communication (ARC) Network Infrastructure."
He has been awarded the John W. White Graduate Fellowship and the 2015 NASA Space Technology Research Fellowship for graduate study. Additional awards and honors include the President's Freshman Award and the Evan Pugh Scholar Award (senior). He was named to the dean's list every semester and is a member of the Eta Kappa Nu Electrical Engineering Honor Society.
Hackett was the recipient of the Schreyer Honors College Academic Excellence Scholarship, the William and Wyllis Leonhard Engineering Honors Scholarship, the Hai-Sup Lee Scholarship, The Boeing Company Scholarship, the Raytheon/FIRST Scholarship, the Lockheed Martin Scholarship and the AMETEK Foundation Outstanding Student Leader Award.
He completed two internships with The Boeing Company, one with the Systems and Network Engineering Analysis Group and the other on a proprietary satellite program. He also interned at GE Transportation in the Locomotive Simulation Laboratory.
His undergraduate research experience included two projects in Penn State's Student Space Programs Laboratory.
Hackett's extracurricular activities included the Schreyer Honors College Student Council; the Institute of Electrical and Electronics Engineers (outreach chair, 2011-12); the Pennsylvania FIRST Tech Challenge (volunteer judge, 2011-12); the Boeing Day of Service (volunteer, 2013); the Leonhard Center Engineering Speaking Contest (finalist and audience choice award, 2013); and the GE Transportation Case Study Competition (first place team, 2012).
Following graduation, Hackett will pursue a graduate degree in electrical engineering at Penn State.