Early Career Recognition Alumni Award Winners
2013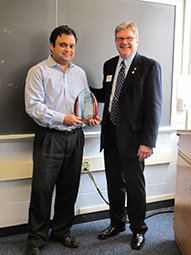 The Department of Electrical Engineering and the Penn State Electrical Engineering Society announce that Arnab Roy is this year's recipient of the Early Career Recognition Alumni Award. Pictured (left to right) Arnab Roy and Dale Hoffman.
Roy graduated from Penn State with his MS in Electrical Engineering in 2004 and PhD in Electrical Engineering in 2011. He was nominated by Douglas Castor his Department Manager at InterDigital. Mr. Roy was hired into InterDigital's Research and Development organization as graduate research assistant in 2011, and later that year accepted a full time position as a Senior Engineer. He joined during the startup phase of a new project aimed on solving the longer term mobile data capacity issues through using higher frequency bands. Since joining InterDigital, Roy continues to provide high quality results in some of the most challenging technical areas of their products and research. He has participated in multiple phases of the design lifecycle from requirements definition through detailed design and simulation results analysis. He has a strong background in physical layer technology from his Penn State experience and prior intern employments, which he applied to perform feasibility analysis during the early phases of the project. Roy took the initiative to give a presentation at Penn State on his work, and collected feedback from university faculty and students.
Roy's contribution to InterDigital goes well beyond being an individual contributor to their projects; he is truly a leader through his exemplary work and commitment to success. Roy is well liked by everyone in the company's organization. He is a team player who can be counted on to deliver results with high quality. The team is very appreciative of his work and his efforts to present clear results are exemplary to others. Arnab is on his way to a very successful career at InterDigital and in the wireless industry.
His department manager says "I find Arnab as one of the most reliable employees. When faced with aggressive schedules he is willing to put in the extra effort to reach deadlines. He always goes the extra mile to get things accomplished and meet every deadline. He presents results clearly and accurately portrays risk areas and deficiencies."
2012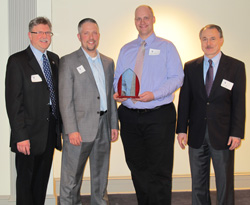 The Department of Electrical Engineering and the Penn State Electrical Engineering Society announce that Ben Campbell is this year's recipient of the Early Career Recognition Alumni Award. Pictured from the left: Dale Hoffman, President of PSEES; Paul Mittan, 2010 award recipient; Ben Campbell, 2012 award recipient; Kultegin Aydin, department head.
Campbell spent five years studying at Penn State graduating in 2003 with a master's of science in electrical engineering, bachelor of science in physics with honors, and minors in business, mathematics, and astronomy and astrophysics. He was awarded the Langhorne H. Brickwedde Recognition Award for Excellence in Undergraduate Physics for his excellent senior/M.S. thesis. In 2005, he joined Robert Morris University's (RMU) inaugural engineering Ph.D. program and earned his degree in 2008 after successfully defending his dissertation concerning quantitative quality measurement methods for laser machining.
Campbell joined Robert Morris University as an assistant professor of engineering in fall of 2011. He spent eight years prior to that as a laser engineer at the Penn State Electro-Optics Center specializing in laser micromachining research. He has more than 20 publications and has presented his work at several international laser conferences. Campbell has performed research for government funded investigations into ultrashort pulse laser-material interactions, and has also generated business with industrial partners to use lasers for innovative manufacturing processes.
In 2011, Campbell was awarded his first research grant from the National Science Foundation in the amount of $300,000 for the "Fundamental Study of Pulse Length Dependency for Laser Ablation and Melt Formation" for laser machining applications. As a demonstration of his laser micromachining capabilities, Campbell laser etched the entire Gettysburg Address on a Lincoln penny. He also directed an intern to write the Declaration of Independence on a nickel. His hobby with lasers has led to the formation of the company, Laser Coins, to produce and sell keepsake coins with meaningful messages inscribed by lasers, with the initial product offering being the Gettysburg pennies.
Campbell served for many years on the faculty for the Pennsylvania Governor's School for the Science (PGSS) at Carnegie Mellon University. During that time he taught courses in laser technology, the science of music, and led student research projects designing and building electronic musical instruments. In 2005 he was given the PGSS award for exemplary service. Since the loss of state funding for the program in 2009, Campbell has helped to lead efforts to restore the program. He serves as the vice president and is on the board of directors of the PGSS alumni association and has personally met with the governor of Pennsylvania and the heads of the state legislature to discuss the future of the program. Campbell recently joined the board of directors for the National Conference of Governor's Schools (NCOGS) and leads the committee for alumni database management solutions.
Campbell is a professional member of Institute of Electrical and Electronics Engineers, SPIE, Biomedical Engineering Society, American Society for Engineering Education, NCOGS, and Laser Institute of America.
Campbell and his wife, Kim, have a three-year-old daughter, Zoey, and live in Cheswick, PA. In his spare time, he enjoys home improvement projects and traveling.
2011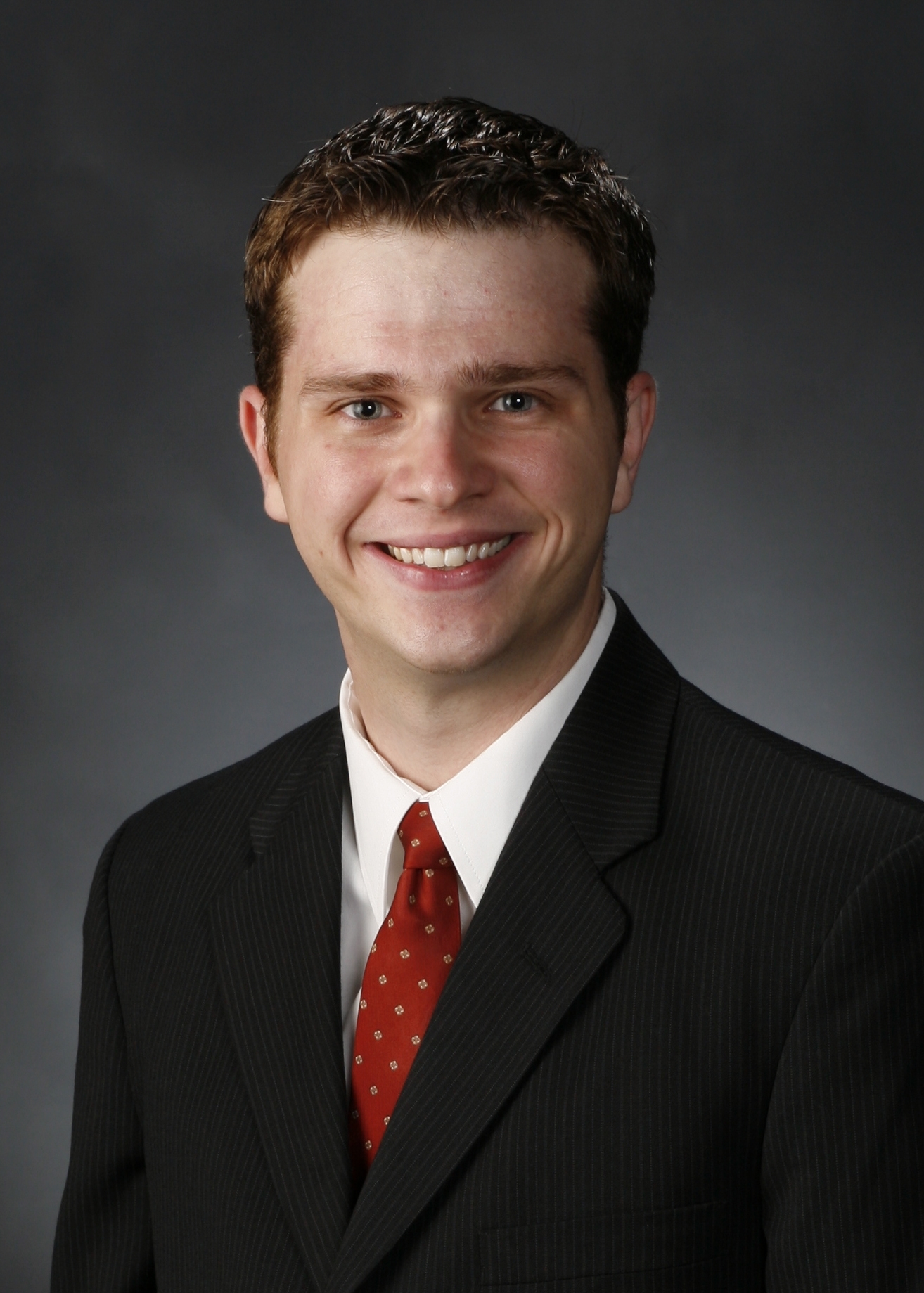 Brandon Ritrovato, a senior software engineer at Lockheed Martin, is this year's recipient of the Early Career Recognition Alumni Award. This award, sponsored by the Penn State Electrical Engineering Society and the Department of Electrical Engineering recognizes outstanding electrical engineering alumni at the outset of their career. Candidates are chosen based on their career achievements, extra-curricular leadership activities, and their potential for success.
Ritrovato received his bachelor's degree in electrical engineering in 2006. He worked as an intern at Lockheed Martin in 2005 and was a finalist for the Penn State's Engineering Intern of the Year Award. Following graduation, Ritrovato accepted a position at Lockheed Martin's King of Prussia location and entered their Engineering Leadership Development Program. As part of this program, Ritrovato was also enrolled in graduate school and received his Masters of Engineering in Systems Engineering at Penn State's Great Valley campus in 2009.
Volunteering at Lockheed Martin and in his local community keeps Ritrovato busy. He has been involved in the College Hire Assimilation and Mentoring Program, Big Brothers/Big Sisters program, National Engineers Week, middle school mentoring program, and founded the round table mentoring, among others.
Born and raised in Norristown, PA, Ritrovato currently lives in King of Prussia, PA and enjoys watching baseball and playing softball.
Ritrovato will receive the award at the graduation reception on Dec. 8 in Kunkle Lounge.
2010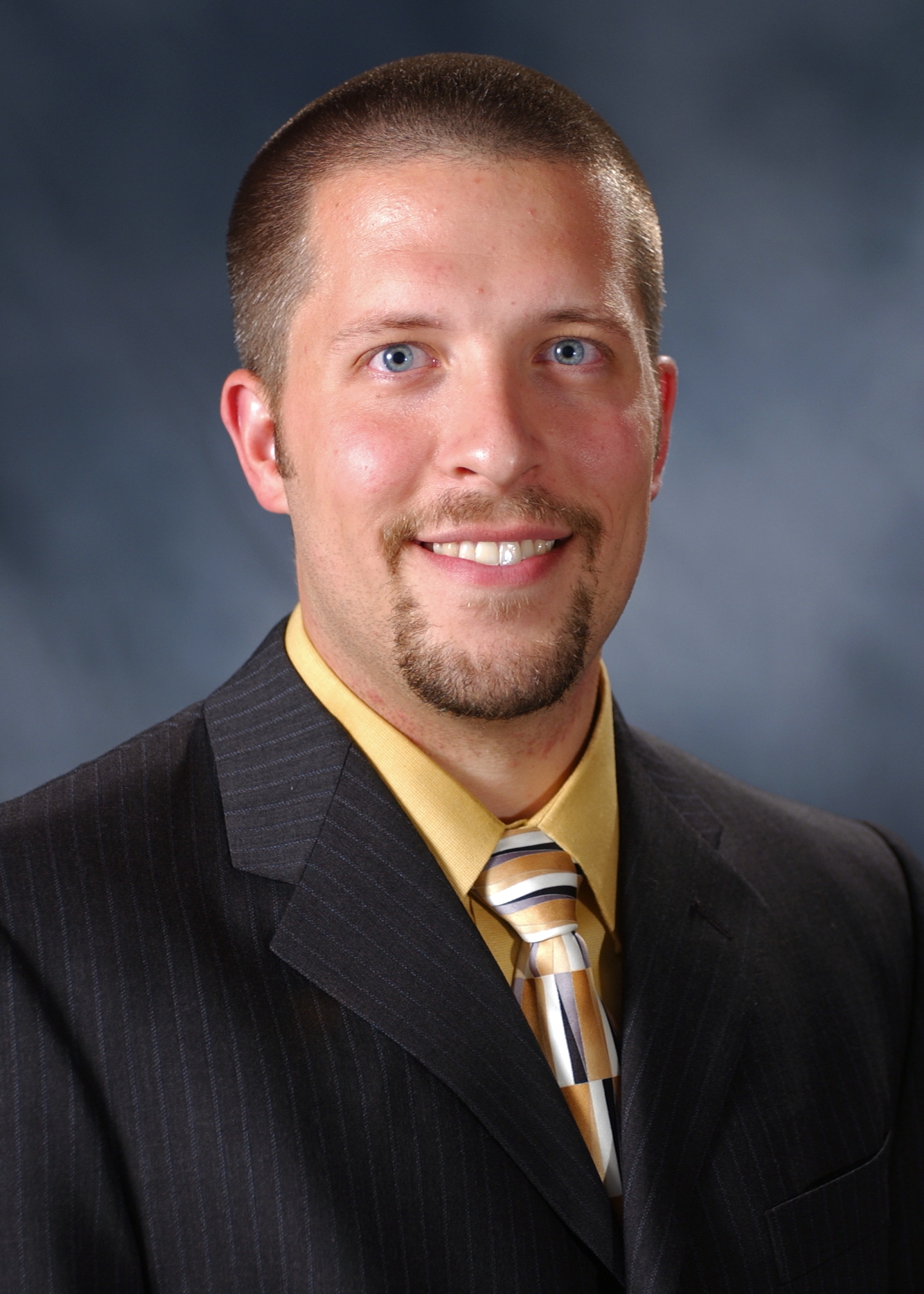 Paul Mittan is the 2010 recipient of the Early Career Recognition Alumni Award.
After receiving his bachelor's degree in electrical engineering from Penn State in 2004, Mittan joined Lockheed Martin Corporation. In 2005, Mittan was accepted into the Lockheed Martin's Engineering Leadership Development Program and completed a master's degree in Systems Engineering from Cornell University in 2008. Mittan was then appointed as manager of engineering leadership development, where he was responsible for the technical development of entry-level engineers. In March 2010, he was appointed to his current role as manager, hardware design engineering. His responsibilities include supervising hardware development engineers and technicians.
Mittan serves on the Learning Factory Industrial Advisory Board at Penn State as well as being involved as the Lockheed Martin Philanthropy Liaison to Penn State. He also is active as a member of the Electrical and Computer Engineering Industry Advisory Board at Binghamton University.
Mittan is the lead coordinator for the Engineering Explorer Programs which is a project-based outreach program for middle school and high school students. Mittan has received a number of distinctions including the Award for Excellence in AMCM Aircrew Training, Lockheed Martin Diversity Award, and a Lockheed Martin Special Recognition Award. Mittan is a 4th degree black belt in Tae Kwon Do and an Eagle Scout.
Mittan and his wife Amanda (Health and Human Development '04), reside in Sayre, PA.
Mittan will officially receive the Early Career Recognition Alumni Award from Ken Jenkins, professor and head of electrical engineering department, on Oct. 8, 3 p.m. at the SPSEE meeting in the EE East Building on the University Park campus.