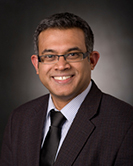 Suman Datta
Professor of Electrical Engineering
Dr. Datta joined Penn State with a joint appointment in Electrical Engineering and the Materials Research Institute in 2007. Prior to joining Penn State, he was a Principal Engineer in the Advanced Transistor and Nanotechnology Group at Intel Corporation. He held the Joseph Monkowski Professorship for Early Faculty Career Development. He is exploring new materials, novel nanofabrication techniques, new classical and non-classical device structures for CMOS "enhancement" and CMOS "replacement" for future energy efficient, high performance and information processing systems. He is also interested in exploring novel energy conversion devices harnessing nanoscale properties of nanostructures. He has published over 140 journal and conference articles and holds 145 US and international patents related to advanced process technologies and transistor architecture. He is an IEEE fellow and a distinguished lecturer of the IEEE Electron Devices Society.
Education
Ph.D. University of Cincinnati, Electrical Engineering
B.S. Indian Institute of Technology, Kanpur, India, Electrical Engineering
Expertise
Transistor modeling, nanofabrication, and characterization specializing in advanced silicon and non-silicon semiconductor based devices for ultra low-power logic and embedded memory applications.
Selected Publications and Patents
Link to selected publications and patents
Honors and Awards
IEEE Fellow
IBM Faculty Award
Penn State Engineering Alumni Society Outstanding Research Award
Monkowski Career Development Professorship
Intel Achievement Award
Divisional Recognition Award from the Intel Logic Technology Development Group