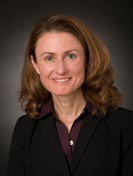 Theresa Mayer
Associate Dean for Research and Innovation
Dr. Mayer joined Penn State in 1994. Dr. Mayer was appointed as an Associate Director of the Penn State University Materials Research Institute in 2006, where she serves as the Technical Director of Penn State Nanofabrication Facility. She is also the Director of the Penn State Site of the National Science Foundation National Nanotechnology Infrastructure Network (NSF-NNIN). Her interests are in the areas of nanoscale electronic and optical device fabrication, integration, and characterization. Her group currently has funded projects in semiconductor nanowire electronics, self-assembly of chemical and biological sensors on CMOS chips, metallo- and all-dielectric metamaterials, and molecular electronic devices. Dr. Mayer holds 5 U.S. Patents and is the co-author of over 100 journal publications.
Education
Ph.D. Purdue University, Electrical Engineering
M.S. Purdue University, Electrical Engineering
B.S. Virginia Tech, Electrical Engineering
Expertise
III-Vand novel semiconductor material systems, molecular beam epitaxy, device fabrication and modeling.
Honors and Awards
Penn State Engineering Society Outstanding Research Award - 2009
Penn State Engineering Society Outstanding Teaching Award - 2000
Recipient of NSF CAREER Award - 1995
Kodak Fellow - 1991-1993