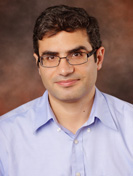 Ahmad Mirzaei
Charles H. Fetter Associate Professor of Electrical Engineering
Prior to joining the electrical engineering faculty in 2013, Dr. Ahmad Mirzaei served as a senior principal scientist at the advanced RF research and development department at Broadcom Corporation, a leading semiconductor company for wired and wireless communications. He worked on the development of the future generation of fully-integrated low-power and multi-band radios from concept to production. He also contributed to a few high-volume wireless products during his seven-year long tenure at Broadcom. He is an author or coauthor of numerous research publications and patent applications in the field of RF-CMOS (see below). He is a senior member of IEEE.
Education
Ph.D. University of California, Los Angeles, Electrical Engineering
M.S. Sharif University of Technology, Electrical Engineering
B.S. Sharif University of Technology, Electrical Engineering
Expertise
RF-analog and mixed-mode integrated circuits and systems for broad range applications, such as wireless communications, sensors, medical devices, etc.
Selected Publications and Patents
Please see this link to view publications.
Honors and Awards
Co-recipient of the ISSCC 2012 Jack Kilby Award for Outstanding Student Paper, for the paper "A Blocker-Tolerant Wideband Noise-Cancelling Receiver with a 2dB Noise Figure"
Co-recipient of the ISSCC 2012 Distinguished Technical Paper Award for the paper "A Blocker- Tolerant Wideband Noise-Cancelling Receiver with a 2dB Noise Figure"
Outstanding Student Designer Award, recognition of excellence in IC design, Analog Device Inc., 2003
Ranked first in national university exam for M.Sc. program, Iran, 2000
Ranked first in national Electrical Engineering Olympiad, Iran, 2000
Winner of silver medal in National Mathematical Olympiad, Iran, 1995