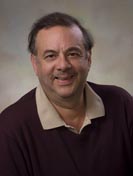 Sal R. Riggio Jr.
Associate Professor of Electrical Engineering
311 Electrical Engineering West
The Pennsylvania State University
University Park, PA 16802
Phone: 814-863-0676
E-mail: riggio_at_engr_dot_psu_dot_edu
Research Area: Microcontrollers and Switching Power
After receiving his bachelor's degree, Dr. Riggio joined the IBM Corporation where he was involved in the detailed design, development and analysis of both discrete and integrated analog and digital circuits for use in the IBM personal computer and high power switching power supplies. He also spent 2 years designing power electronic equipment for swimming pools and working as an independent design & development consultant for ABB Daimler-Benz Transportation. In 1996, Dr. Riggio joined the faculty at Penn State. He has his Professional Engineering license in Florida and Pennsylvania. Dr. Riggio holds 15 US Patents and has published 33 articles in the "IBM Technical Disclosure Bulletin". Dr. Riggio holds an Extra Class Amateur Radio License and is a Senior Member of the IEEE.
Education
Ph.D. Florida Atlantic University, Electrical Engineering
M.S. University Of Vermont, Electrical Engineering
B.S. Penn State, Electrical Engineering
Expertise
Discrete and Integrated Analog and Digital Circuits and Devices, Microcontrollers, Power Electronics, Motors & Generators, Communications, Controls, Amateur Radio, Television Systems, and Field Programmable Logic Arrays
Selected Publications and Patents
Link here to selected publications and patents
Honors and Awards
IBM Outstanding Technical Achievement Award For Electrical Power Development
IBM Seventh Invention Plateau Award