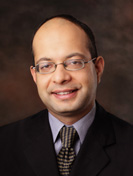 Sumeet Kumar Gupta
Monkowski Assistant Professor of Electrical Engineering
Dr. Gupta joined Penn State in 2014 as an Assistant Professor of Electrical Engineering. Prior to this, he was a Senior Engineer at Qualcomm Inc, where he developed circuit design techniques and methodologies for analysis and benchmarking of standard cells. His research interests include exploration of novel devices and circuits for low power high performance variation-aware VLSI design in Si and non-Si technologies, with an emphasis on co-design between different levels of abstraction. He is also interested in device-circuit modeling of emerging and exploratory technologies, including charge- and spin-based logic and memories. He has published over 30 articles in refereed journals and conferences and is a member of IEEE.
Education
Ph.D. Purdue University, Electrical and Computer Engineering
M.S. Purdue University, Electrical and Computer Engineering
B. Tech. Indian Institute of Technology Delhi, India, Electrical Engineering
Expertise
Low power variation aware VLSI circuit design, nano-electronics, spintronics, device-circuit co-design, nano-scale device-circuit modeling and simulations.
Selected Publications and Patents
Please see this link for a list of selected publications.
Honors and Awards
Monkowski Career Development Professorship
6th TSMC Outstanding Student Research Bronze Award
Intel PhD Fellowship
Certificate of Recognition for outstanding job during Summer Internship at Intel Labs
Outstanding Teaching Assistant Award from Purdue University
Magoon Award for exceptional service as a teaching assistant at Purdue University