Alumni News
Early Career Recognition Alumni Award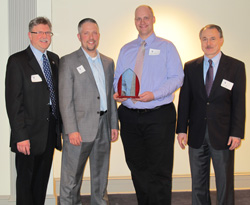 The Department of Electrical Engineering and the Penn State Electrical Engineering Society announce that Ben Campbell is this year's recipient of the Early Career Recognition Alumni Award. Pictured from the left: Dale Hoffman, President of PSEES; Paul Mittan, 2010 award recipient; Ben Campbell, 2012 award recipient; Kultegin Aydin, department head.
Campbell spent five years studying at Penn State graduating in 2003 with a master's of science in electrical engineering, bachelor of science in physics with honors, and minors in business, mathematics, and astronomy and astrophysics. He was awarded the Langhorne H. Brickwedde Recognition Award for Excellence in Undergraduate Physics for his excellent senior/M.S. thesis. In 2005, he joined Robert Morris University's (RMU) inaugural engineering Ph.D. program and earned his degree in 2008 after successfully defending his dissertation concerning quantitative quality measurement methods for laser machining.
Campbell joined Robert Morris University as an assistant professor of engineering in fall of 2011. He spent eight years prior to that as a laser engineer at the Penn State Electro-Optics Center specializing in laser micromachining research. He has more than 20 publications and has presented his work at several international laser conferences. Campbell has performed research for government funded investigations into ultrashort pulse laser-material interactions, and has also generated business with industrial partners to use lasers for innovative manufacturing processes.
In 2011, Campbell was awarded his first research grant from the National Science Foundation in the amount of $300,000 for the "Fundamental Study of Pulse Length Dependency for Laser Ablation and Melt Formation" for laser machining applications. As a demonstration of his laser micromachining capabilities, Campbell laser etched the entire Gettysburg Address on a Lincoln penny. He also directed an intern to write the Declaration of Independence on a nickel. His hobby with lasers has led to the formation of the company, Laser Coins, to produce and sell keepsake coins with meaningful messages inscribed by lasers, with the initial product offering being the Gettysburg pennies.
Campbell served for many years on the faculty for the Pennsylvania Governor's School for the Science (PGSS) at Carnegie Mellon University. During that time he taught courses in laser technology, the science of music, and led student research projects designing and building electronic musical instruments. In 2005 he was given the PGSS award for exemplary service. Since the loss of state funding for the program in 2009, Campbell has helped to lead efforts to restore the program. He serves as the vice president and is on the board of directors of the PGSS alumni association and has personally met with the governor of Pennsylvania and the heads of the state legislature to discuss the future of the program. Campbell recently joined the board of directors for the National Conference of Governor's Schools (NCOGS) and leads the committee for alumni database management solutions.
Campbell is a professional member of Institute of Electrical and Electronics Engineers, SPIE, Biomedical Engineering Society, American Society for Engineering Education, NCOGS, and Laser Institute of America.
Campbell and his wife, Kim, have a three-year-old daughter, Zoey, and live in Cheswick, PA. In his spare time, he enjoys home improvement projects and traveling.
This award was developed to recognize and honor outstanding Penn State electrical engineering alumni at the outset of their career. A bachelor's, master's or doctoral degree in electrical engineering from Penn State, University Park campus, within ten years of the nomination date is required. The award recipient must have demonstrated outstanding technical excellence resulting in significant accomplishments as well as showing great potential for continued success in their field. In addition, the individual should have solid extra-curricular leadership activities having a positive influence on others and role model opportunities.
Please use the following links to access the nomination form and award criterion.
Outstanding Engineering Alumni Award

Richard (Dick) Williams (BSEE '80) is the recipient of the 2013 Outstanding Engineering Alumni Award sponsored by the College of Engineering. The award, which recognizes and rewards outstanding alumni for their success as leaders in their field, is the highest honor bestowed by the College.
Williams is the president of Shell WindEnergy. Williams joined Shell immediately after graduation and over the years held positions in project engineering, operations, joint ventures, and business development. His last role there was commercial manager for Shell Distribution North America. Shell WindEnergy builds and operates eleven wind farms, including eight in the U.S. and three in Europe.
Williams is committed to the future and success of wind energy, and Shell is a founding sponsor of The Wind Alliance which is a collaboration among government, industry, and academic institutions dedicated to the long term operational sustainability of the wind industry. Williams is the founding chairman of the alliance.
In addition to his professional career, Williams is on the board of Breakthrough Houston which is an educational collaborative which nurtures high achieving students from at-risk areas, He is also chairman of the Houston Technology Center, recently named one of America's top ten incubators and is on the advisory board for the Alaska Center for Energy and Power at the University of Alaska.
While attending Penn State, Williams was involved in the Institute of Electrical and Electronics Engineers, intramural sports, and was a member of Eta Kappa Nu. He lives in Houston with his wife, Sandi, and they have two sons.
Past Outstanding Engineering Alumni Award winners can be viewed here.